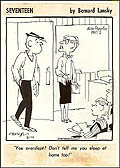 Click for larger image.
Virtually all original artwork created by Bernard Lansky, some dating back more than 60 years, remains un-circulated to this day. Only through the efforts of Mr. Lansky's sons has original Bernard Lansky artwork become available for public viewing.

An exhaustive cataloging of all existing artworks began mid-2003, and to this day, additional works are still being uncovered. One of our primary objectives is to populate an assortment of Bernard Lansky "galleries" on this site to share the humor and imagination of Bernard Lansky's previously syndicated cartoons and a few never-before-seen artworks with the public.

We will post more information on this website as progress is made and works become available for viewing. Please contact us if you have any questions or suggestions.